Day and time
Day (s) - 19 Sep 20
13:00 - 14:00
Place
Rundviks Folkets Hus - Nordmalingsbygdens Folkets Hus
Categories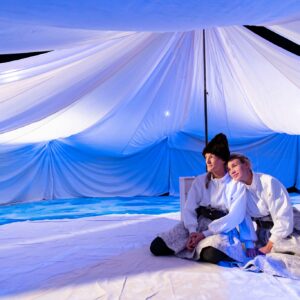 Oolik is an ordinary girl who embarks on an unusual adventure. One day when she is sitting in her igloo, it starts dripping on her head. Is her igloo melting? Join Oolik on her journey to seek help. In an interactive, musical performance, Oolik travels through snowstorms, across oceans and into our hearts.
The show is very visual and the characters speak "igloo-ish", a pretend language, which makes the show
is available to everyone. The theater is suitable for children aged 4-10 years.
The performance, which is a collaboration between Nordmaling's library and Rundviks Folkets hus, is part of Sustainability Week in Nordmaling's municipality.
We follow the Public Health Agency's restrictions and only release a limited number of tickets so that they can be kept at a safe distance.
Tickets are free but must be pre-booked. First come first served. Tickets will be released on September 2. To book, call or email the library, 0930-141 75 / biblioteket@nordmaling.se or come by.
The theater will also be broadcast live. This means that you can participate on your computer, tablet or mobile wherever you are. No pre-booking is required to watch the live broadcast. More info coming soon.
Photo: Martin Skoog